What is Microsoft Dynamics 365? A Brief Overview
Does your organization already have ERP or CRM solutions built in? Are you ready to use business applications now? Microsoft Dynamics 365 is the answer.
Dynamics 365 is one of the business applications made by Microsoft. Microsoft Dynamics 365 is the best solution for your business if it needs to grow and you want to turn a business process into a business advantage. It is a cloud-based solution with different modules for ERP and CRM.
But what is Microsoft Dynamics 365, and what do its modules do? Let's start right away.
What is Microsoft Dynamics 365?
Dynamics 365 is an application that helps companies run more efficiently. Dynamics 365 is used for Customer Relationship Management and Enterprise Resource Planning. 
Moreover, Dynamics 365 is a complete set of key applications that can be used for many business needs. Users save much time with the platform because they don't have to choose different applications to do other business tasks.
Dynamics 365 is a Software as a Service that companies all over the hierarchy use and is part of Microsoft's line of business applications. Dynamics comes with various tools and features to help companies do CRM, ERP, and accounting tasks and automate other tasks like bookkeeping to make business operations more efficient and scalable. 
Dynamics 365 is used by industry companies like Coca-Cola, HP, BMW, Adobe, Delta, and many others to meet their business needs.
In 2016, Microsoft released this platform that linked its Dynamics 365 AX and Dynamics 365 CRM applications to give customers a better experience. Dynamics 365 has Artificial Intelligence (AI) features that help companies get quick and valuable insights. 
Dynamics 365 integrates with Microsoft 365 apps right out of the box, which makes it a very flexible and scalable app. Because it is built on the Microsoft Azure platform, the application is very safe and reliable.
Discover what automation can look like for your business
Microsoft Dynamics 365 Uses
Dynamics 365 can be used in many uses. Here are a few essential uses to use it:
Built-in AI and analytics modules can help make smarter decisions based on data.
This completes your business by bringing together people, processes, and data from different applications.
With Dynamics 365, you can update your approach by adding AI, mixed reality, social, and mobile features. This is a step forward in business innovation.
You don't have to change your business process flow if you change the application to fit your needs. You can either connect applications to systems that are already in place, or you can use Microsoft Power Platform to customize changes.
Ten Best Benefits of Microsoft Dynamics 365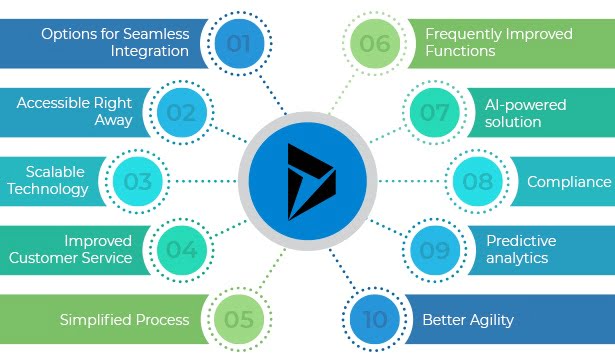 Options for Seamless Integration: All of the solutions in the Dynamics 365 suite work well with other Microsoft programs to improve productivity.
Accessible Right Away: Since the ERP solution is in the cloud, users can access accurate data anytime, anywhere, on any device.
Scalable Technology: All Dynamics 365 solutions are easy to customize, integrate, and scale up or down based on the business's needs.
Improved Customer Service: One of the finest things about Dynamics ERP is that it helps you give excellent customer service, keep customers loyal, and help the company grow.
Simplified Process: Processes are made easier because Microsoft Dynamics ERP speeds up business processes. This saves time, and money and also cuts down on mistakes.
Better Agility: The Dynamics ERP helps you close your books faster, give more detailed reports, and make more money with accurate business intelligence.
Frequently Improved Functions: Microsoft's solutions focus more on the cloud and include new features and improved functions in the Dynamics suite of solutions.
AI-powered solution: Dynamics ERP's features and AI work together to make inventory management, report generation, accounting, and other business operations run smoothly.
Predictive analytics: Dynamics 365 has built-in capabilities for predictive analytics that ensure you have access to accurate business data and insights to help you make smart decisions.
Compliance: Microsoft follows strict rules to ensure all compliance laws are met. All Microsoft Dynamics 365 ERP versions can use the same regulatory configuration format.
Microsoft Dynamics Modules and Applications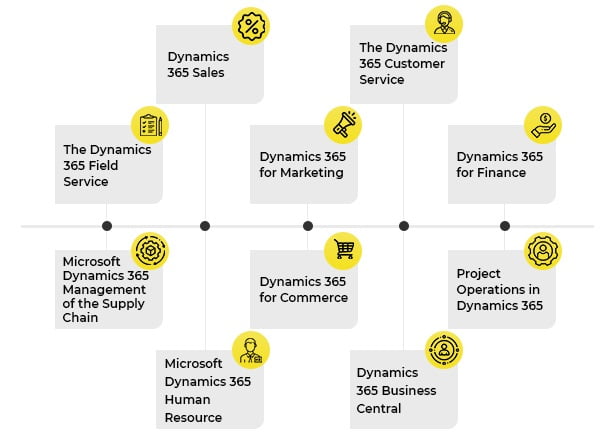 Let's schedule a kickoff discussion to understand your CRM requirements
Dynamics 365 Sales
Microsoft Dynamics Sales makes it easy to keep track of all your sales. You can get more information, keep a dashboard, and give leads the highest possible score.
Manage all your sales processes
Score first
Email following
AI assistance
Predictions of sales
The Dynamics 365 Customer Service
The needs of your clients come first, right? Let Dynamics 365 Customer Service do it for you! It prioritizes giving the best customer experience possible and offers fast and reliable support. AI gives you an advantage when taking care of problems in the background. Also, automation can help with complex support issues.
Omnichannel service
Customer perspectives
Portal for self-service
Chatbots
SLAs (Service Level Agreements)
The Dynamics 365 Field Service
The Microsoft Dynamics 365 Field Service module does an excellent job of organizing and coordinating the appointments and routes of your technicians. You can now make on-site visits more productive and make it easier for your company and customers to share information. So, your customers are happier as a result!
Maps that you can play with
Manage bookings and orders
IoT stands for "Internet of Things."
SLAs (Service Level Agreements)
AI assistance
Dynamics 365 for Marketing
With Dynamics 365 Marketing, you can take care of all of your business's marketing processes. It helps you automate your marketing, run your events, and keep track of your social media.
Manage events
Put together landing pages.
Email marketing
Score first
Journey of a customer who interacts
Dynamics 365 for Finance
Dynamics 365 Finance is suitable for medium and large businesses. You can plan your budget, automate your processes, and optimize how you do things.
Billing that happens on its own
Plan your cash flow.
Makeup reports
Options for each country
Prognoses
Microsoft Dynamics 365 Management of the Supply Chain
You make that having processes that work well makes your assembly line work better. With the Dynamics 365 Supply Chain Management module, you can now optimize how your supply chain processes. It makes technologies like the Internet of Things (IoT) and machine-based learning.
Inventory and planning for resources
Information in one place
Set up smart processes
Optimize logistics and stock.
Dynamics 365 for Commerce
With the Dynamics 365 Commerce module, you can run your stores whether they are online or not. Giving your customers a great online experience will make them your biggest fans.
Provide an excellent customer experience
Omnichannel communication
AI assistance
Ecommerce functionalities
Project Operations in Dynamics 365
You can see and plan your projects with Dynamics 365 Project Operations. Now you can get your tasks done quickly and keep track of your resources and any changes to the project. It ensures that your projects are finished on time, saving you time and money.
Project management
Contract management
Tracking time
Tasks management
The finances of a project are optimized
Microsoft Dynamics 365 Human Resource 
Companies have always had a tough time finding and hiring the best people. With Dynamics 365 Human Resources, you can now manage the process of hiring new processes and bringing them on board.
Manage employee profiles
Tracking the holidays
Manage seminars and holidays
Payroll and budget management
Tax return management
Dynamics 365 Business Central
Dynamics 365 Business Central ERP is vital for both small and medium-sized businesses and large companies. Here's where Dynamics 365 Business Central comes in! It gives you a full view of your organization and helps you plan processes well.
Accelerate sales processes
Project management
Improve supply chains.
Helping people is called customer service.
Take care of money
How many versions of Microsoft Dynamics 365 are there?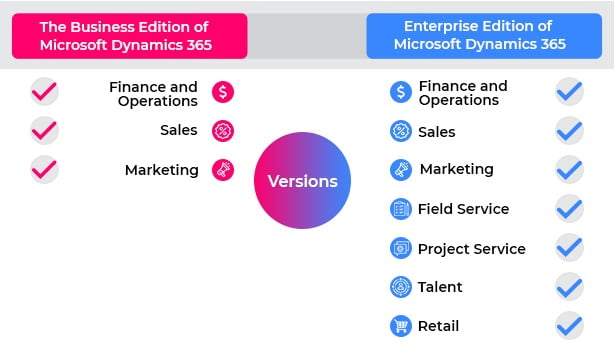 There are two main types of Microsoft Dynamics 365. The Dynamics 365 Editions have the following:
Business Edition: suitable for small and medium businesses
Enterprise Edition: This version is ideal for medium-sized to large companies.
The Business Edition of Microsoft Dynamics 365
Microsoft Dynamics 365 Business Edition is an ERP/CRM system that runs in the cloud. The Business Edition is best for businesses with 100 to 250 employees. There are three parts to the Business Edition:
Finance & Operations: Business Edition's finance module is built on Microsoft Dynamics NAV but lacks certain NAV functionality. It lacks, for example, a production module.
Sales: Microsoft Dynamics 365 Business Edition's sales module is based on Microsoft Dynamics CRM. This module is best for small and medium-sized businesses.
Marketing: The Marketing module of Microsoft Dynamics 365 Business Edition will collaborate with Adobe. The Marketing module in the Enterprise edition is similar to this.
Enterprise Edition of Microsoft Dynamics 365
The Dynamics CRM and Microsoft PowerApps are part of the Microsoft Dynamics 365 Enterprise Edition. Dynamics 365 for operations also has Microsoft's high-end ERP solutions built in.
Finance and Operations: In the beginning, this was called Microsoft Dynamics AX. This Finance and Operations module has all of Dynamics AX's finance and operations features.
Sales: Microsoft Dynamics CRM has services for managing leads and making the sales process work.
Marketing: Adobe and Dynamics 365 both have built-in tools for marketing. This is a full-featured, all-in-one marketing tool.
Customer Service: Microsoft Dynamics 365's customer service ties together the CRM and other new features with the existing Parature features and Microsoft partnerships.
Field Service: This module is used every day by the field staff. This is used to make the Microsoft cloud easier to move around.
Project Service: The project service in Dynamics 365 helps estimate and plan projects. This is more appropriate for professional service organizations.
Talent: The HCM (Human Capital Management) module of Microsoft Dynamics 365 usually does not come with the software and must be bought separately.
Retail: The Retail module of Microsoft Dynamics is sold separately from the rest of the software and does not come with it.
Why Should You Choose Microsoft Dynamics 365 Modules?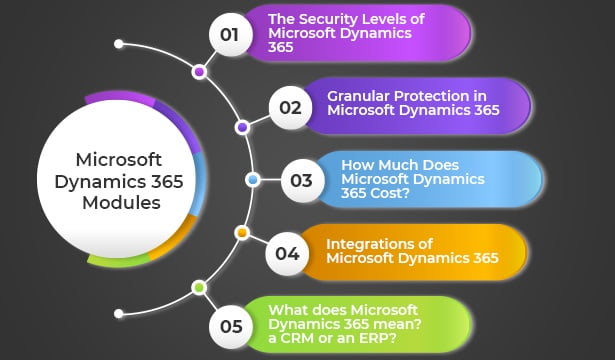 Among all the CRM Systems, Microsoft Dynamics CRM is just a step ahead of other CRMs. Microsoft Dynamics is a group of smart business applications that help you run your business and give you helpful information. The modules on the Dynamics 365 platform are flexible and can help you grow your business. Here are some reasons to choose Microsoft Dynamics 365 Modules:
The Security Levels of Microsoft Dynamics 365
When choosing a CRM, data security is one of the most important things to consider. Your data is very safe with Microsoft Dynamics 365. Microsoft Dynamics 365 keeps your data safe by separating it into business units, teams, and users. 
This gives the security settings a central hierarchy to rely on. After making all of this, each user, team, or business will have its own access and privilege levels. These access levels and privileges have enabled Microsoft Dynamics 365 to keep data safe. 
Create, Read, Write, Delete, Append, Append To, Assign, Share, and Append to are the privileges. Each of these privileges is further broken down by the level of access, such as Global, Local, Basic, or None.
Granular Protection in Microsoft Dynamics 365
Microsoft Dynamics 365 gives your organization a lot of security options. The first level of security is ensured at the entity level. This is based on roles. Security in your organization has the privilege to allow or deny access to specific entities based on their roles. 
The second level of protection is based on records. At this level of security, you can give users, teams, or units access to certain records or keep them from doing so. The third level is based on fields. 
Controlling certain areas lets you ensure that your data is always safe. Multi-Factor Authentication gives it more security outside your business application.
How Much Does Microsoft Dynamics 365 Cost?
Microsoft Dynamics 365 offers different pricing options based on the size of your organization. With the Business and Enterprise editions, each business can choose the modules that work best for them. To know more, click the link here.
Integrations of Microsoft Dynamics 365
Microsoft Dynamics 365 works well with other Microsoft solutions, business applications from other companies, and databases. It has both ERP and CRM businesses to help applications streamline and simplify their processes. 
SharePoint, Outlook, OneNote, and Power BI are some of their applications that are not used daily. With all of these integrations, you can make it your business tool, no matter how big your organization is.
What does Microsoft Dynamics 365 mean? a CRM or an ERP?
Many apps and modules in Microsoft Dynamics 365 can be used as both Enterprise Resource Planning (ERP) and Customer Relationship Management (CRM) software. It is made to be as flexible and expandable as possible. This means it can work well with any business model.
Conclusion
Microsoft Dynamics 365 combines business applications, data, documents, and devices into a single user experience. This gives you more control over your finances and operations and the information you need to build and keep customer relationships.
Dynamics 365 helps you be more productive, learn more about your customers, work from anywhere, on any customer, and set your business up for growth.
When an expert from Beyond Key helps you set up your solution, you'll get even more benefits. Get more flexibility, a lower total cost of ownership, more secure access from anywhere, and infrastructure and support for businesses today. Have a business challenge? Let's connect to understand, and our experts will offer a solution in no time.