The Best Way To Automate Volunteer Tasks
In the year 2020, around about 77.3 million people selflessly stepped up to the plate in United States. Can you believe it? That's a whopping 26.6% of the adult population lending a hand and spreading kindness like confetti. Now, why am I sharing this mind-boggling number with you? Well, it's to highlight just how vital volunteers are in the grand scheme of things. These unsung heroes make a world of difference, and its high time we recognized their critical role in drumming up support for donations. So, buckle up, because we are about to dive headfirst into the captivating world of volunteer management! 
Think Beyond Traditional Approaches
Imagine a world where volunteer management is a breeze, where your nonprofit organization operates seamlessly, and where your impact knows no bounds. This is not a distant dream; it's within your reach.  
But let's be honest, managing volunteers can sometimes feel like a high-wire act without a safety net. The good news is, there's a game-changing solution that will take your efforts to new heights—automation. 
Now, you might be wondering, why should you invest in volunteer management software? Let me introduce you to the wisdom of industry experts who have experienced the revolutionary impact of automation. 
Benjamin, CEO of a leading nonprofit organization, shares his revelation, "When we implemented volunteer management software, it was like a breath of fresh air. We streamlined our processes, from recruitment to scheduling, and saved countless hours of manual work. Our volunteers were more engaged and satisfied, and our mission's success soared to new heights."

 

Olena, Volunteer Coordinator at a local charity, couldn't agree more. She testifies, "Before we embraced volunteer management software, coordination was a nightmare. But now, with its intuitive interface and features like shift scheduling and real-time messaging, our volunteer efforts are finely tuned. Our volunteers feel valued, and we can focus on making a tangible difference in our community."

 
These powerful testimonials illustrate the undeniable benefits of volunteer management software. It's not merely about digitizing your processes; it's about unlocking the full potential of your organization. So, let's dive deeper into how you are managing volunteers, why smooth volunteer management is necessary, the management process and why automation is a game-changer for your Nonprofit org. 
How do you manage volunteers?
Volunteers are essential for achieving the goals of your organization. But to harness their full potential, you need a well-crafted plan for finding, recruiting, activating, and retaining volunteers. 
A well-managed volunteer program leads to better execution of events, actions, or programs, improved retention of supporters, and long-lasting relationships. The question is, how do you achieve this? 
Why is it essential to manage volunteers? 
 Volunteers possess the power to help nonprofits grow and reach their goals more effectively. However, to leverage their potential, your volunteer program must be well-run, with clear expectations and enjoyable experiences for supporters. 
 Effective volunteer management is key to nurturing a win-win situation. Volunteers offer their time and skills because they care about your organization's mission, while your organization gains valuable manpower to run its programs. 
According to the NonProfit Times, the value of a volunteer hour was estimated at $28.54 in 2020 and $29.95 in 2021. Moreover, research from our Mobilize network reveals that volunteers are twice as likely as non-volunteers to donate money to a cause. Building relationships with your volunteers early on is crucial to avoid missing out on potential donations. 
The volunteer management process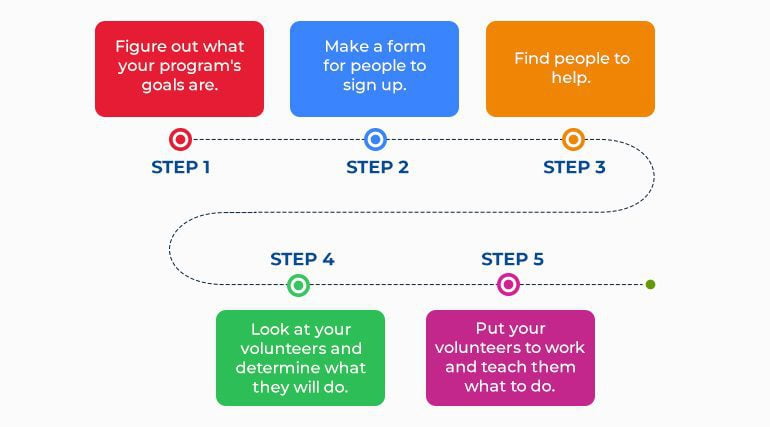 To effectively manage volunteers, most nonprofits follow a five-step plan: 
Step 1: Figure out what your program's goals are. 
Setting clear goals for your program helps you stay focused, track progress, and make necessary adjustments along the way. Define how volunteers fit into your work and identify your ideal volunteer profile. Determine their duties, required skills, and availability. 
Step 2: Make a form for people to sign up. 
Streamline your registration process with user-friendly digital sign-up forms that collect essential information for effective communication and relationship management. Tools like EveryAction and our Mobilize network offer customizable and shareable forms, allowing easy integration across multiple platforms. 
Step 3: Find people to help. 
Utilize existing channels like newsletters, social media, and SMS messages to reach out to donors, members, and supporters, encouraging them to sign up for volunteer shifts. Leveraging integrated CRM systems simplifies contact management and enables targeted messaging for different audiences. 
Step 4: Look at your volunteers and determine what they will do. 
Screen and assign volunteers roles that align with their skills and interests. Integrating screening questions into your digital recruitment process allows for efficient matching of volunteers with opportunities. Provide flexibility by allowing volunteers to choose shifts that best suit their availability, ensuring a positive experience for both staff and supporters. 
Step 5: Put your volunteers to work and teach them what to do. 
Before volunteers embark on their assigned tasks, provide comprehensive training to equip them with the necessary skills and knowledge. Tailor the training approach to your specific needs, whether through online modules, in-person sessions, or one-on-one coaching. A well-trained volunteer team ensures a smoothly executed event or initiative. 
Looking for a way to automate your existing volunteer tasks? Check out this link for an innovative solution. 
What are software benefits for nonprofits that help them manage their volunteers?
Volunteer management software offers numerous benefits for nonprofits, regardless of their size. It goes beyond serving as a repository for volunteer contact information and offers invaluable features for PR and marketing teams, allowing targeted project and event staffing. Custom filters enable quick identification of volunteers with specific skills and preferences. 
Additionally, volunteer management software enables effortless tracking of volunteer recruitment efforts, training records, and other vital information. Say goodbye to manual data entry and spreadsheet management – embrace the power of digital tools. 
Can software for managing volunteers help small nonprofits? 
Absolutely! Volunteer management software can prove valuable for organizations of all sizes. Smaller nonprofits can opt for user-friendly software solutions that provide essential functionalities without unnecessary complexity. As your organization grows, consider transitioning to more comprehensive paid software programs that align with your evolving needs. Embracing digital solutions will save your volunteer management team time and effort, facilitating smoother operations. 
Does other software for nonprofits work with software for managing volunteers? 
Most volunteer management programs can be seamlessly integrated into your nonprofit's CRM system, ensuring data consistency and a holistic approach to organization management. For instance, Beyond Key's Volunteer Management Software can be easily connected to your CRM, guaranteeing up-to-date volunteer data and streamlined operations across multiple software platforms. 
Now is the time to take your nonprofit organization to new heights with efficient volunteer management.