The Best Way To Automate Volunteer Tasks
If you're in charge of a nonprofit organization, getting volunteers involved and developing a plan for volunteer management should be your top priorities. Volunteers are essential to the smooth running of nonprofit groups.
Volunteer management software is a priceless tool for nonprofits that want to manage better and stay in touch with their most important stakeholders, such as board members or your volunteer database.
We'll start by explaining what volunteer management is and what it means. Then, we'll discuss some best practices and show how volunteer management software can be helpful. Get going!
How do you manage volunteers?
You need volunteers to run programs and, in the end, reach your goals. Volunteer management is the process of finding, recruiting, activating, and keeping volunteers.
Volunteers can help you reach a wide range of goals, but only if you make and stick to a detailed plan for managing them. Everyone who works with you will have a good time if you do this. 
A good volunteer experience leads to better execution of an event, action, or program, better retention of supporters, and lasting relationships. Let's get started.
Why is it essential to manage volunteers?
Volunteers can help nonprofits grow and reach their goals more quickly and effectively, but only if the program is well-run, clear expectations are set, and supporters have a good time. 
This is why it's so important to have a good plan for managing volunteers. Volunteers give their free time and skills to your organization because they care about its mission. 
This is a win-win situation because your organization gets more people to help run its programs and the volunteers get the satisfaction and sense of belonging from supporting a cause they care about.
The value of a volunteer hour was $28.54 in 2020 and $29.95 in 2021 by the NonProfit Times. The NonProfit Source found that 72% of volunteers only work with one organization, so your volunteer management process is vital to keep them interested and involved.
Volunteers are essential in ways that are hard to measure but also in ways that are easy to measure. Also, your volunteers will often want to help in other ways. 
According to research from our Mobilize network, volunteers are twice as likely as non-volunteers to give money to a cause. You must start building relationships with your volunteers immediately to avoid losing money!
The volunteer management process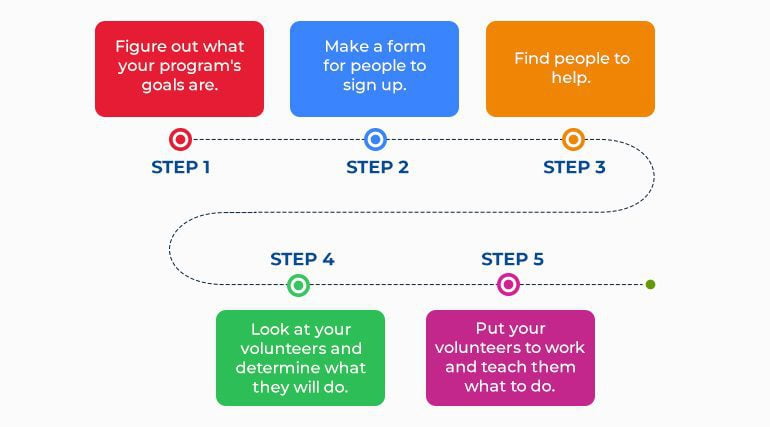 Most nonprofits use a five-step plan to manage their volunteers.
Step 1: Figure out what your program's goals are.
Setting goals for your program can help you stay on track, track its progress, and make changes.
Before you do anything else, you should decide how volunteers fit into your work and who your ideal volunteer is. What duties will they have to take care of? What skills do you need, and when are you available? 
The letters SMART stand for specific, measurable, actionable, realistic, and time-bound. When you measure how well your volunteer program is doing, you can improve and grow it to help your mission.
Step 2: Make a form for people to sign up.
Your registration process should be easy to understand and help you get the information you need to contact people and keep track of your relationships with them.
Organizations used to use paper sign-up sheets, but now most use digital forms instead. Like the ones in EveryAction and our Mobilize network, the best digital sign-up forms can be changed, shared, and put into other websites. 
You should make your forms stand out and be consistent with your brand. They should also be clear about which event (or events) people are signing up for, and they should work with screen readers and other tools for people with disabilities. 
To make it easy for your supporters to sign up, you'll also need to be able to embed sign-up forms on your website and other places where your supporters hang out.
Suppose you can easily share a sign-up form or feature. In that case, you can include it in messages you send to supporters on all of your digital channels, including volunteer platforms like Mobilize, where since 2017, organizations have built a network of over 4 million volunteers who have taken over 15 million actions to help their favorite causes. 
In fact, we've found that the number of people who sign up for a volunteer event goes up by 40% when advertised on the Mobilize public network.
Step 3: Find people to help.
Now that you know your goals and have made a sign-up form, it's time to find volunteers. Use the ways you already have to reach out to donors, members, supporters, and people who have volunteered with you to get them to sign up for a shift. 
You can do this by putting a sign-up form in your newsletter, social media posts, SMS messages, and other places. Also, if you use a highly integrated or unified CRM, all the information you need to get in touch with those audiences should be easy to find. 
This will help you divide them into groups and send them messages that are more relevant to them.
If you want to find new supporters who don't already know you, think about where they are likely to be. They might be on Facebook or Twitter. How do they find your business? What phrases or keywords do they use? Can your website make it easy to find your volunteer opportunity?
Asking your current supporters to invite their friends is a tried-and-true way to get new supporters. This is because they will likely share the same interests and values and may want to volunteer together. 
Since more than 20% of supporters who took action through Mobilize did so because of one of their "bring a friend" features, and nearly 40% of supporters took action with the same people more than once, our Mobilize network has seen how effective shareable sign-up features can be. This is good for everyone.
Step 4: Look at your volunteers and determine what they will do.
In step four of the volunteer management process, volunteers are given roles and checked out to ensure they are taking on tasks that are a good fit for their skills.
By using customizable forms to ask screening questions, find the best volunteer opportunities, and divide volunteers into email and SMS streams with regular invitations to opportunities that match their screening answers, you can integrate some of your screening questions into your digital recruiting process from the start. 
By letting supporters choose their shifts on days and times that work best for them, staff and supporters will benefit. It takes less time for staff to put volunteers on the right changes. In general, this makes it more fun to work for your company.
Step 5: Put your volunteers to work and teach them what to do.
Before you send your volunteers out to knock on doors, help neighbors, make phone calls, or do anything else for you, they need to be trained. Every type of volunteer work needs training if you want your supporters to know what to expect and feel confident in their ability to help your cause.
Make a list of the most critical skills and knowledge that volunteers must have before their shift. Do you want them to read a script before they make their first phone call for phone banking? This can be as easy or hard as you want it to be. 
Should volunteers read through a list of frequently asked questions, so they are ready to answer questions from the community you're serving? Making sure your volunteers know what they need to know ahead of time will help your event run smoothly.
Once you know what you want your volunteers to learn from the training, you can decide how it should be done. Can volunteers get all the training they need online, or do some or all of them need to be taught in person? 
Do you have training materials and modules that can be used without being there at the same time? Would it be better for your volunteers to be trained one-on-one or in a group? Think about the best way to teach your volunteers what they need to know. Every volunteer needs the right direction to be successful.
Looking for a way to automate your existing volunteer tasks? Click here
What are software benefits for nonprofits that help them manage their volunteers?
No matter how big or small your nonprofit is, a volunteer management system can help you manage your volunteer databases in many ways. You no longer have to type information into spreadsheets by hand and then remember that information when required.
Volunteer management software is more than a spot to reserve volunteers' contact information. Your PR and marketing teams can use it to find people for projects and events. Your team can add custom filters 
 when making volunteer profiles in the software. This will let them quickly pull lists of volunteers who have specific skills or like doing certain tasks.
The software lets you keep track of your efforts to get volunteers, the training each of your volunteers has had, and other important information about your volunteers.
Can software for managing volunteers help small nonprofits?
Volunteer management software can be helpful for both big and small nonprofits. Choose simple management software that gives you all the information you need without being too complicated for a smaller nonprofit.
As your organization grows, you should buy a paid software program to help you manage volunteers. No matter what kind of volunteer management software you choose, using a computer and digital databases to do all tasks will save your volunteer management team time and work.
Does other software for nonprofits work with software for managing volunteers?
Most volunteer management programs can be added to your nonprofit CRM system to make it more complete and fit its needs. 
For example, you can use Beyond Key's Volunteer Management Software to connect a volunteer management system to your CRM so that your volunteer data is always up to date. This way, it stays in touch with the other software you have integrated. 
Get ahead of the game and give your nonprofit organization a boost right away with good volunteer management.