Top Reasons To Choose Dynamics 365 For Marketing
Dynamics 365 for Marketing is one of the newest apps for Dynamics 365. Simply put, Microsoft has made a solution for every marketing team, no matter how big or small the business is. There was a module, but it wasn't as thorough as it is now. People who have used Dynamics 365 CRM before might say that it already does. The first version of the marketing module was missing some essential parts needed for a marketing department to work. Microsoft decided to improve it by making it a part of Dynamics 365 that is only for marketing.
What is Dynamics 365 for marketing?
Dynamics 365 for Marketing is a powerful marketing app that is part of the Dynamics 365 brand. It gives small and medium-sized businesses (SMBs) all the tools they need to run successful marketing campaigns across digital platforms. ​
Dynamics 365 for Marketing is a powerful solution with a drag-and-drop interface and many built-in features, such as the ability to send campaigns through different channels. Dynamics 365 for Marketing works well with all of the other Dynamics 365 apps because they all use the same shared data model. This makes it easy to store and share data.
Dynamics 365 Marketing Features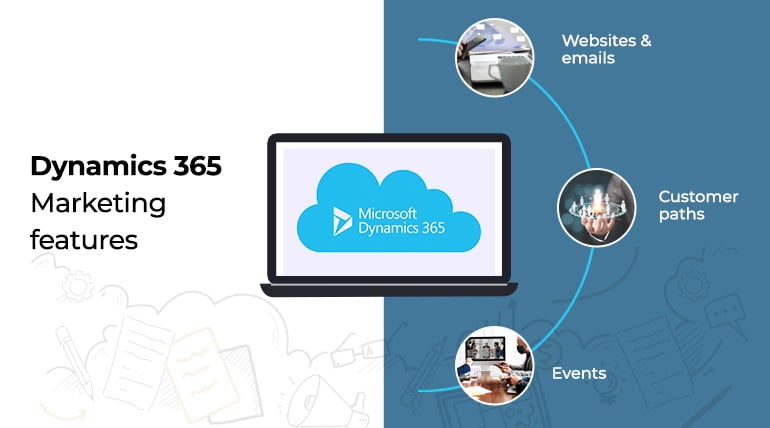 Dynamics 365 for Marketing's core features let you control and integrate your digital marketing strategy with every other aspect of your business.
Websites and Emails
Dynamics 365 Marketing lets you customize email communications to leads and prospects. Drag-and-drop templates make professional email creation easy. Each template is optimized for all devices, platforms, and email clients. An integrated HTML editor lets coders customize email layouts and designs. After sending messages, extensive data is centralized about when and if they were opened, interacted with, forwarded, etc. Heatmaps and other visualizations can show these results.
Web editors, like email editors, let you create landing pages and other marketing content for your website. These forms can directly import mailing list subscriptions and other data into Dynamics 365.
Customer Paths
The software's core marketing features allow for customer segmentation and strategy implementation. To illustrate this process, a "customer journey" is shown here. Dynamics 365 Marketing users can drag and drop to create a step-by-step customer journey or use a template.
For instance, you could target website visitors who have visited a specific page. Find this group of contacts in Dynamics 365 and add them to the campaign. You can then send an email to all these contacts using trigger rules. Follow-up messages could be scheduled for specific times or interactions. Based on customer actions and knowledge, paths will branch out. The software lets you easily create personalized customer journeys to nurture leads and close sales. Aligning sales and marketing increases productivity and simplifies collaboration within your organization.
Customer journey lets you gather lots of customer data. Dynamics 365 Marketing dashboards will display data better. These analyses will help you make better data-driven marketing decisions.
Events
In-person events or webinars can help you connect with leads in marketing and sales. Events management in Dynamics 365 lets you better integrate and manage them. Dynamics 365 Marketing handles all event details, including:
–Preparation and budgeting. For first-time event planners, there is a step-by-step guide and tools for registration, contacts, and attendance. The platform can book venues, accommodations, speakers, and schedules.
-Publicity and promotion. The event can have a fully functional website with important information from your schedules. Guests can register themselves and send you the information.
-Webinar/simulcast production. In partnership with ON24, the software lets you set up and run webinars and other online events and get important metrics.
–Evaluation. After the event, you can track attendees' activities and use metrics to measure event ROI and lead generation.
Discover what automation can look like for your business
What More can Dynamics 365 do for Marketing?
Microsoft Dynamics 365 for Marketing is a marketing automation marketing for businesses that need to do more than just send out emails. Dynamics 365 for Marketing can help businesses that are growing to focus on leads who are ready to buy their products or services.
By using an adaptable platform, you can get your sales and marketing to work together, make better decisions, and change to reach your goals. Dynamics 365 for Marketing lets you find out who is using your online platform by keeping track of things like when emails are opened when forms are filled out on your marketing pages, and when people sign up for events.
The marketing module helps you get more digital engagement from your customers and, as a result, grow your list of leads. It has a lot of features that help sales and marketing teams prioritize and target leads. 
With shared data and connected processes, the app lets you automate the handoff of leads and keep track of how their sales are going. Collaboration, sharing of resources, and team connections are built into Dynamics 365 for Marketing so that teams can work together to close more sales opportunities.
When you put both Dynamics 365 for Sales and Dynamics 365 for Marketing on the same platform, you can:
Create and safely share a single (true) source of data about contacts, leads, and customers so that you can understand the importance and outcome of each interaction;
By using its dynamic segmentation features, you can target the right people;
Set up different lead scoring models to rank leads according to different customer segments;
Connect and automate customer journeys with sales and marketing processes to keep up with customers and track their progress;
Use Office 365 to work together with coworkers, customers, and leads.
Dynamics 365 for Marketing also lets you focus on important business events like product launches, the planning and execution of big events or trade shows, the management of effective content-based campaigns, and the use of surveys to raise customer awareness.
The advantages of Dynamics 365 for Marketing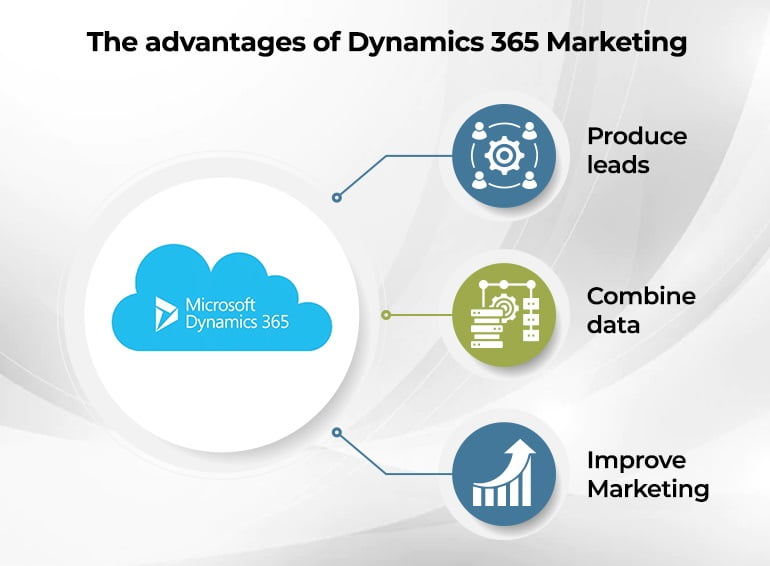 Produce leads
Create multi-channel campaigns – Draw in the right demographic and keep track of leads generated by email marketing, landing pages, webinars, phone calls, or events.
Create a unique customer experience – by using advanced tools and programmable templates based on particular customer interactions.
Recommendations for products – Create and grow a stronger social media presence to boost reputation and connect with potential customers across all digital channels.
Customer journey definition – To create touchpoints with the right messages for each phase, follow your customer's journey from the prospecting phase through to the acquisition phase.
Combine data
Prioritize – Make the best segmentation decisions using integrated intelligence, and always target the appropriate audience.
Monitor Results – Using Power BI reports and analyses, keep tabs on the effectiveness of Marketing campaigns and activities.
Integrate Sales: Using the best practices currently available, optimize your sales efforts while letting process automation handle tedious tasks.
Social Media Integration: Share content, look for, and connect with businesses and people on social media to find new leads.
Improve Marketing
Boost productivity by using well-known tools like Word templates for document creation, Excel templates for marketing activity analysis, or SharePoint for team access.
Collect customer data and establish a central data hub where all departments can access data on contacts, leads, and customers.
Analyze Effectively – Using automated workflows, track prospective customers more effectively and turn them into customers.
Partner management By streamlining the data flow for end users and using specific portals for your distribution partners, you can give your collaborations new dimensions.
Let's schedule a kickoff discussion to understand your CRM requirements
Here are some ways that Dynamics 365 for Marketing could help your business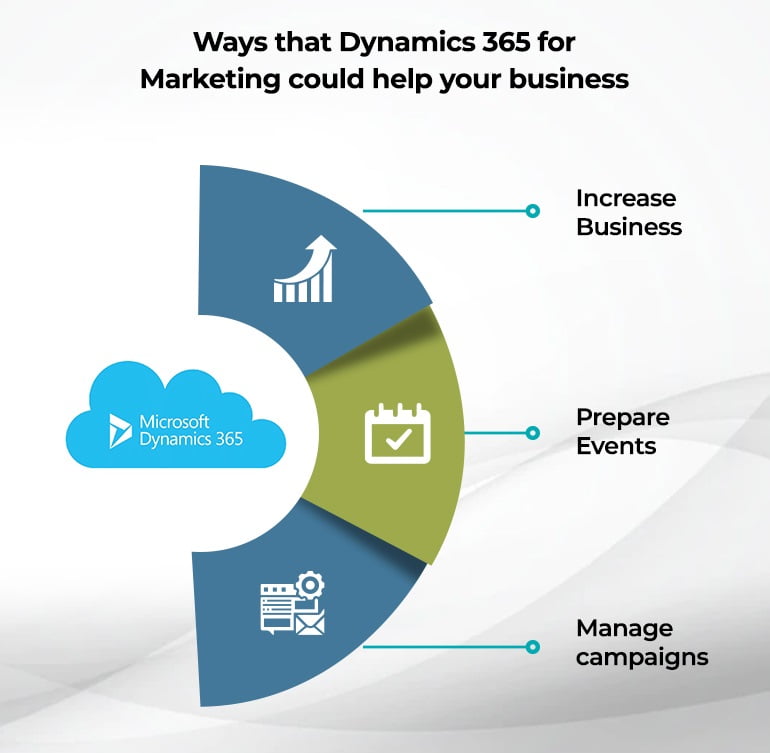 Increase Business
The launch of a new product or the entry into a new market are often the biggest investments that companies will make. A successful launch requires careful planning and oversight.
Utilizing customer journeys, email and landing page content, your marketing specialists are in charge of your product launch campaign with Dynamics 365 for Marketing. This allows them to make sure that everything aligns with the message that your new product is trying to convey.
Dynamics 365 for Marketing's website tracking enables it to send a series of emails to website visitors who express interest in new goods or services. Reactive emails ask potential products to fill out forms on landing pages to sign up for notifications of new product leads and related events.
Sales and marketing teams can quickly establish a variety of lead identification models thanks to Dynamics 365 for Marketing. Automation of business processes seamlessly transfers leads to your sales team. All companies seeking to bet on a return on their launch effort need to be able to quickly identify qualified buyers for a new product or in a new market.
Prepare Events
To find new opportunities and close deals, many companies rely on live and virtual events. Marketing professionals can effectively manage events, such as sponsored events and trade enables, with the help of Dynamics 365 for Marketing.
Dynamics CRM for Marketing elevates event management to a whole new level with features designed specifically for event planning, managing guest speakers and budgets, sending email invitations, handling registration, and monitoring event portals. 
Companies need a single, centralized source of information to coordinate the event and assess its success due to the sizable investments made during event planning related to staff, sponsors, trips, and logistics.
Dynamics 365 for Marketing, in contrast to most automated marketing solutions, links the operational aspects of events with information about attendees, those who have registered for the event, and partners to produce a customized event management solution.
Manage campaigns that are content-based
Many marketing professionals' new mantra is "content, content, content." Customers and prospects are constantly searching for useful, pertinent, and educational content about the products and services they're interested in. 
Access to content-based programs (e-books, white papers, videos, etc.) and customer journey tracking are seamlessly integrated by Dynamics 365 for Marketing. Customers, leads, and subscription centers can select the content they want to view.
By gathering crucial data about leads and automatically directing them to the content they are most likely to find interesting, Customer Journeys help you move leads through the campaign funnel quickly and effectively. 
It's simply not profitable to manually send emails to prospective customers in 2019. Each potential customer can automatically follow their own path thanks to Dynamics 365 for Marketing.
Wrapping up
You have now seen how adaptable the new Dynamics 365 for Marketing application is thanks to this brief overview. You must now determine if it is the ideal tool for your marketing team. All business types should use this module. The platform will satisfy the needs of your business, whether you are just getting started or have been around for a while. Contact us for a customized demo if you believe Dynamics 365 for Marketing could be a great asset to your company.