Nonprofit CRM: Elevating the Game of Nonprofits
Nonprofit organizations, over the years, have realized the importance of automation in revolutionizing fundraising. To empower their campaigns and encourage participation from the public, they need an excellent framework that tracks their contracts and the activities of the donors. Nonprofit organizations are looking for advanced technology and donation software that helps them automate interactions with volunteers, donors, contracts, and inventory. 
What is Nonprofit CRM Solution?
CRM for nonprofits is a donation management software used for managing service, retaining volunteers, expanding reach, engaging new people, and acquiring more donors. It enables nonprofits to get a comprehensive view of individual donors and software and decide the effectiveness of fundraising operations. It benefits charity businesses as it helps build a robust fund management system and automate processes. 
A nonprofit CRM helps increase brand visibility and helps in connecting with potential donors. More widely known as the donor database, it helps track conversations and engagement histories and manages beneficiary actions. It allows organizations to find new people to partner with. 
Departments, including customer service, marketing, and operations, need CRM to store data, record service issues, and promote collaboration. Thus, it responds to questions, understands the expectations of potential donors and other stakeholders, and tracks progress levels. 
CRM for nonprofits makes meaningful engagements with stakeholders and volunteers and provides suggestions for the best possible outcome. It also provides the foundational structure and functionality to grow and nurture the donor base. It provides high-level insights into the organization and helps view its health at a glance. It also allows the management of all donations at one location, even if they are obtained across different platforms and organization events. 
Functions Performed by a Nonprofit CRM
CRM for nonprofits provides a 360-degree data overview by providing separate portals where stakeholders can add data and charity organizations can manage volunteers. It also offers seamless transactions and consolidates different payment gateways. Customized dashboards form an easy way to track the contributions and performance of the charity organization. 
With the help of dashboards, volunteers can constantly gather information about upcoming activities and obtain real-time notifications that help stakeholders remain informed. It helps maximize the relationship between nonprofits and donors and acts as a central database to personalize donor experience. 
The CRM solution helps in saving resources and reducing the aggravation factor. It is also used to attract new members and is a helpful tool for nonprofit employees responsible for operations and marketing. Lastly, it separates constituents like board members, service recipients, and other partners into different categories. 
Features of a nonprofit CRM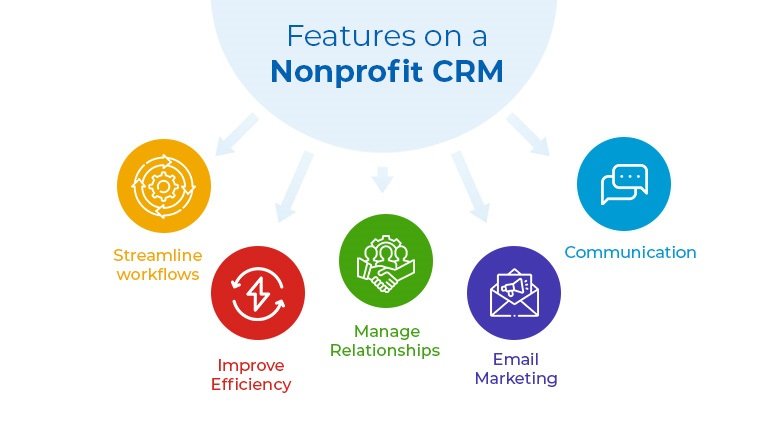 CRM for nonprofits helps streamline workflows, improve efficiency, and manage relationships with patrons. It helps enhance internal communication and integrates with popular email marketing software and providers. The CRM solution offers an accessible mobile interface to ensure maximum productivity. It reduces manual data entry and personalized donation pages and sets up custom processes. 
The CRM solution also offers a generosity score that provides insights into the potential giving capacity. Marketing tools help leverage donor data that helps connect with the target audience. Effective marketing strategies can appeal to donors' interests, preferences, and gift potential. Letters and emails are two examples of outreach materials that help communicate directly with digitally-minded constituents.
The engagement meter is another helpful feature that helps identify major prospects, capture potential lapses and develop relationships. Engagement factors such as donations, email subscriptions, social media interactions, and volunteer hours are carefully computed so that organizations consider this valuable research and devise algorithms to expand their reach. Social media interactions allow organizations to gain more exposure and grow their donor base. 
Software integrations serve as a medium to streamline activities and capture nonprofits' donations and event registrations. Integration with accounting software helps record and track all financial transactions. 
Smart integrations also enable the transfer and storage of essential data so that organizations can leverage it for their nonprofit schemes. Thus, software integrations allow nonprofit organizations to view a complete and accurate picture of the data.  
What Can Nonprofit CRMs do?
Nonprofit CRM creates custom searches and monitors donor queries to sync lists in real time. It also uses popular pre-built queries to increase donor retention. CRM for nonprofits tracks product offerings, enlist volunteers and provides tools to manage appointments with donors. It assigns roles and responsibilities to different teams, creates a detailed profile of segment donors, and stores updated contact information. Thus, it is primarily used for building long-lasting relationships and empowering nonprofit organizations to grow dramatically.
Benefits of CRM for Nonprofits
A nonprofit CRM increases donor retention and is integral to improving fundraising strategy. A nonprofit CRM allows organizations to engage with donors and recruit new contacts into donors. It also provides the rate of converting the website traffic into donors and calculating other metrics for converting the audience into donors. It allows nonprofit organizations to make the right decisions by carefully reporting donor metrics. 
CRM for nonprofits allows organizations to communicate effectively with donors, increase transparency and provide access to donors about the information related to ongoing campaigns. A CRM solution leads to efficient operations and allows organizations to fully understand their relationships' and strategies' strengths and weaknesses. 
Donor cultivation is another advantage of using CRM for nonprofits as it helps organizations to identify prospects for different donors and encourages them to donate more over time. The donor cultivation strategy allows nonprofit organizations to establish long-term relationships with donors. 
Lastly, CRM stores all the data in an easy-to-access place, avoiding duplicate records and allowing nonprofit organizations to store data in an organized manner. 
How Nonprofit CRM is the Key Solution to All Problems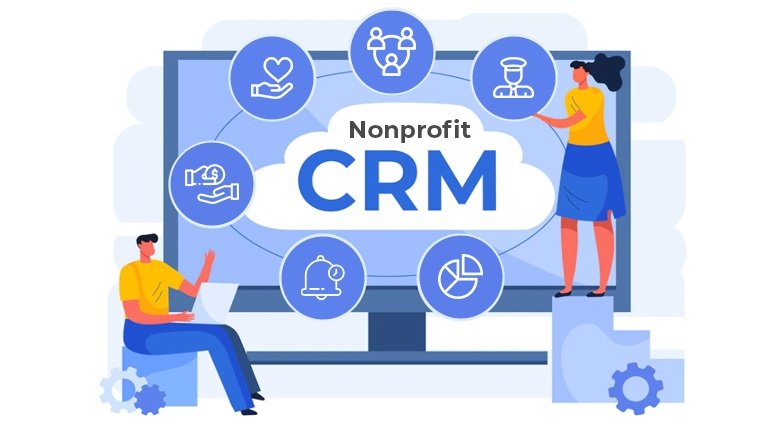 With the help of a nonprofit CRM solution, charity organizations can plan personalized events and automate workflow on donor management and campaign automation powered by Artificial Intelligence. A nonprofit CRM offers instant automation to donor profiles and campaign performance-related queries.
Nonprofit CRMs solve problems related to donor management, including auto-logged activities, segmenting potential donors, and reporting donations. It allows charity organizations to prioritize active donors and track communications. 
Nonprofit organizations can efficiently manage social media pages, add customizable entities, and access Dashboard and Outbox from CRM. 
Additionally, CRM for nonprofits handles processes, manages membership, and sets custom values for membership requirements. 
CRM for nonprofits creates volunteer sign-up pages and empowers volunteers to donate. It also uses creative volunteer engagement methods, including auto-reminders for incomplete donations and shortcodes to direct donors to specific campaigns. 
Charts and graphs provide clear visibility of the grant activity and track active grants. They also serve as a fantastic medium to keep track of metrics most crucial for the organization. 
The NonProfit CRM Kickstarter
Dynamics 365 NonProfit Kickstarter comes along with a standard core system and set of fields. It is embedded in the Microsoft Cloud and consists of charity-specific features that help improve the relationship between nonprofit organizations and donors. 
The D365 management system can be integrated with other systems and transform how nonprofits communicate with potential clients. The NonProfit CRM Kickstarter requires zero coding, can be integrated on demand, and works seamlessly with the Microsoft Stack. It is multilingual ready and accessible through browsers and mobile devices. 
The NonProfit CRM Kickstarter provides the infrastructure and system needed to expand reach and communicate with more donors. Widely adopted international data standards suitably accept the CRM solution. 
When Does A Nonprofit Organization Require D365 Kickstarter?
A nonprofit organization with unorganized lists of donors, donations, and volunteers requires a proper management system to filter enormous amounts of data. D365 CRM Kickstarter is suitable for nonprofits who want their data to be on the cloud and want to avoid coding at the user level. 
It is also ideal for organizations using a legacy system and wishing to switch to a Microsoft environment. D365 Kickstarter offers additional services, including portal development, platform porting, security assessment, and improvement. D365 Kickstarter is also suitable for nonprofit organizations looking for architecture services and legacy modernization. 
What Does Beyond Key Offer To Nonprofit Organizations?
Beyond Key offers customized solutions for nonprofits of all sizes to impact tracking data, manage accounts on social media sites, and member management, including program delivery and IATA processes. 
Beyond Key offers targeted solutions to nonprofits for managing resources and planning events. It uses automated software to gather deep insights from the available data of past volunteers and supporters. Beyond Key is a team of skilled employees with worldwide functional expertise. They have deep knowledge and experience of the most promising markets and competitive advantages. 
Beyond Key also offers continued support and maintenance to nonprofit organizations with its data experts, helping in increasing funding opportunities and improving business operations. 
Beyond Key assists nonprofit organizations in configuring the Kickstarter to suit the acknowledgments, importing lists, and providing the training required for nonprofit organizations to build a custom fundraising and engagement system. 
Wrapping Up
Many nonprofit organizations understand that a nonprofit CRM solution is a form of stewardship that helps build donor retention and sort data for organizational growth. Thus, with the help of CRM solutions, particularly the one from Beyond Key, nonprofit organizations have an excellent platform to make smarter fundraising decisions, engage new supporters, and get new donors quickly. CRM software for nonprofits enables retaining and engaging donors and offers new fundraising opportunities. Supercharge your nonprofit organization to do social good using the latest technology from Beyond Key's Dynamics 365 CRM today.