Why You Need Microsoft Dynamics 365 For Higher Education And Student Recruitment
Customer relationship management (CRM) systems are being adopted by many higher education institutions (HEIs) to attract better, retain, and connect with their students at various stages of the student lifecycle.
The bar has undoubtedly been raised, along with everyone's expectations (not least of all the students), regarding how colleges interact with students and use their data. But institutions are in a pool of 100s of CRMs. So which one is going to serve their expectation?
Solution For The Expectation
Microsoft Dynamics 365 for Higher education is the solution to this exact problem. Choosing one university over another with comparable credentials frequently depends on how well the school communicates with potential students. Is the admissions team helping me with my application? Is the university giving me current information? Will the course support my professional goals?
Most students can benefit from Microsoft Dynamics CRM and the education sector working together. University staff is looking for an efficient approach to connect with students without adding more administration. A university's IT stack must be cutting-edge and effective to compete in the digital age.
The most straightforward method for institutions to achieve harmony with their stakeholders is by putting the modern Microsoft Dynamics 365 for higher education into practice. You will gain insightful knowledge about your students that will help you forge closer insights with past, present, and prospective students and alums. It's also helpful to know that the platform may be accessible on smartphones and tablets in this age of flexible and remote working.
We'll learn about the different features, common functions, advantages, and benefits that Dynamics 365 CRM offers to the education industry today.
Make sure you have some coffee handy because this is not a quick read.
Discover what automation can look like for your business
Features Of Microsoft Dynamics In Education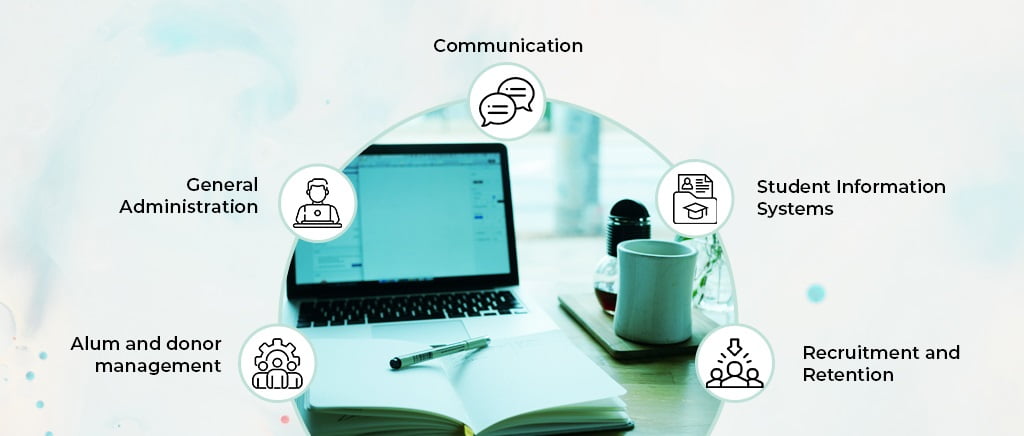 Key features of Microsoft Dynamics 365 for Higher Education include:
Alum and donor management
This gives you the tools your institution needs for more efficient fundraising and growth through alums and donor management. Gaining knowledge about your donors will help increase donations and build enduring insights.
• Offer a thorough picture of each contributor, including details about their previous dealings with your institution.
• List the top alumni donors so you can more effectively focus your communications to them.
• Automate communications with significant contributors and the community to strengthen these key ties.
• Examine fundraising campaigns and look for trends to help you improve your efforts and raise more money.
General Administration
Aids in reducing administrative costs, which are very difficult for educational institutions to manage. With the efficiencies obtained through automation and access to real-time information, the special relationship between Microsoft Dynamics CRM and the education sector may simplify that issue.
• Make use of the already existing tools to automate workflows and teamwork with other institutions.
• Use simple, web-based design tools to edit forms, data fields, and relationships in Microsoft Dynamics CRM to suit your needs.
• Get in-depth perspectives on the efficiency of operations, including asset management, food services, and transportation, and utilize the information to work more efficiently.
• Boost productivity with a recognizable user interface that functions similarly to other Microsoft productivity products, requiring less training and promoting quick adoption.
• Produce complex performance reports for your organization without help from IT.
Communication
Communication is essential for every educational institution, but with today's tight budgets and scarce resources, keeping your important audiences up to date can be challenging. But with Microsoft Dynamics CRM, you can improve your community interactions through your communications.
• Automate communications distribution to parents and the community to raise awareness of critical occasions and accomplishments.
• Facilitate information aggregation quickly, reducing the need for lengthy email exchanges between distance-learning students and instructors.
• Keep student records on hand so you can reply swiftly when parents or others contact you, including attendance, curriculum, punishment, and extracurricular activities.
Student Information Systems
With Microsoft Dynamics CRM for your Higher Education Institution, you can get a complete picture of every student and streamline the management of documents and processes. You can better serve students by reducing your administrative effort and gaining knowledge about school performance.
• To provide a comprehensive picture of each student, and centralize the management of student records, including attendance, curriculum, discipline, and extracurricular activities.
• Use real-time visibility into student data and academic performance in the classroom or school to proactively address concerns before they arise.
• Automate procedures and communications to ease administrative burdens while maintaining student privacy.
With tools that may assist you, your faculty, and your staff in managing daily operations and reaching higher levels of efficiency, Faculty and Staff Management – Microsoft Dynamics CRM for the education sector is a quick, adaptable, and cost-effective solution.
• Get rid of paper-based processes for handling career-related tasks like teacher certification.
• Offer mobile access with cutting-advantage data synchronization and mobility features to faculty, administrators, and staff so they may use tools and information whenever and practically anywhere.
• With simple, visual scheduling and a consolidated view of calendars and resources, you can streamline the management of substitute instructors and staff.
Recruitment and Retention
Microsoft Dynamics 365 in the education sector makes it simpler to target your audience, track responses, evaluate outcomes, and monitor performance. Whether you want to attract and retain great teachers or bring more students to your school, college, or university.
• Use Microsoft Dynamics CRM's built-in recruiting and prospecting tools to find and hire qualified teachers and students.
• Give administrators the ability to assess the school, department, or faculty performance with real-time information and trend analysis. 
• Track event attendance and evaluate the success of marketing or educational initiatives within Microsoft Dynamics CRM.
Beyond Key's team can deliver a seamless student connection plan that exactly fits your educational institution of skilled Microsoft Dynamics CRM Consultants with ease and success. You can easily:
Collect school paperwork and forms
Engage Donors (Alumni) and Raise Funds
User Privacy Control with Level-based access
Student Behavior Management application
Let's schedule a kickoff discussion to understand your CRM requirements
Common Functions of Microsoft Dynamics CRM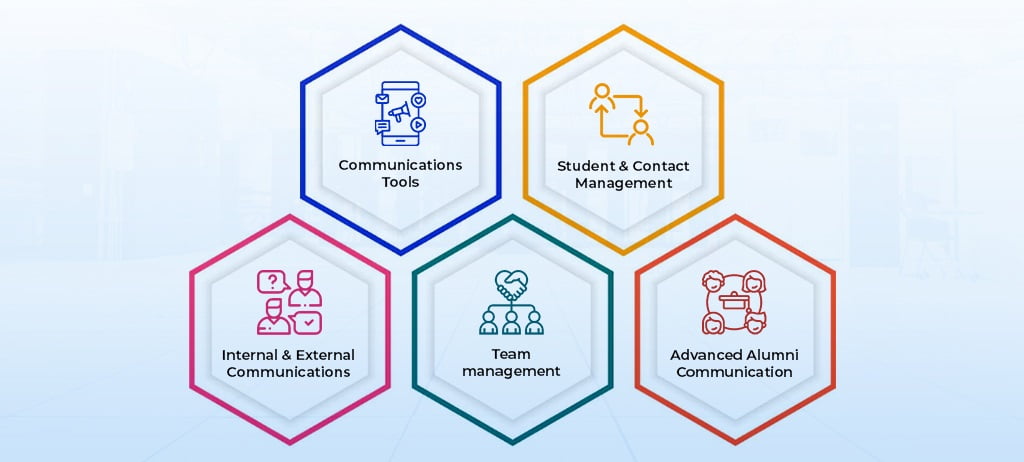 Communications Tools: Explore many communication tools, including email, instant messaging, face-to-face meetings, SMS, phone, and social media communications. Additionally, you may easily integrate third-party applications with Microsoft Dynamics CRM.
Student and Contact Management: Microsoft Dynamics CRM is the best for actively managing the student lifecycle in terms of student and contact management. Manage everything painlessly, from registrations on the first day to complete alum management, including clubs, societies, performance, student reports, the classroom, and much more. Utilize Microsoft Dynamics CRM's full capabilities to quickly and precisely create and store contact profiles. Track each encounter effortlessly as it takes place.
Internal and External Communications: Microsoft Dynamics CRM helps your educational institution leverage cross-communication with staff, faculties, and other members.
Team management: Utilize the robust and feature-rich Microsoft Dynamics CRM to schedule tasks, plan workload, and track staff.
Reporting: To streamline management processes and improve productivity at every level, quickly prepare various reports and other statistical data.
Advanced Alumni Communication: Examine Microsoft Dynamics CRM's robust reporting features to explore track of student-related trends before, during, and after graduation and after graduation.
Integrating Microsoft Dynamics CRM with MIS will leverage a seamless student lifecycle by leveraging the best Management Information System (MIS) functions.
With Beyond Key, you can get:
Counselor Productivity Mapping
Campaign Tracking and Optimization
Real-time Reporting and Analytics
You can get started with the perfect CRM for your institution today!
Microsoft Dynamics CRM Benefits for Education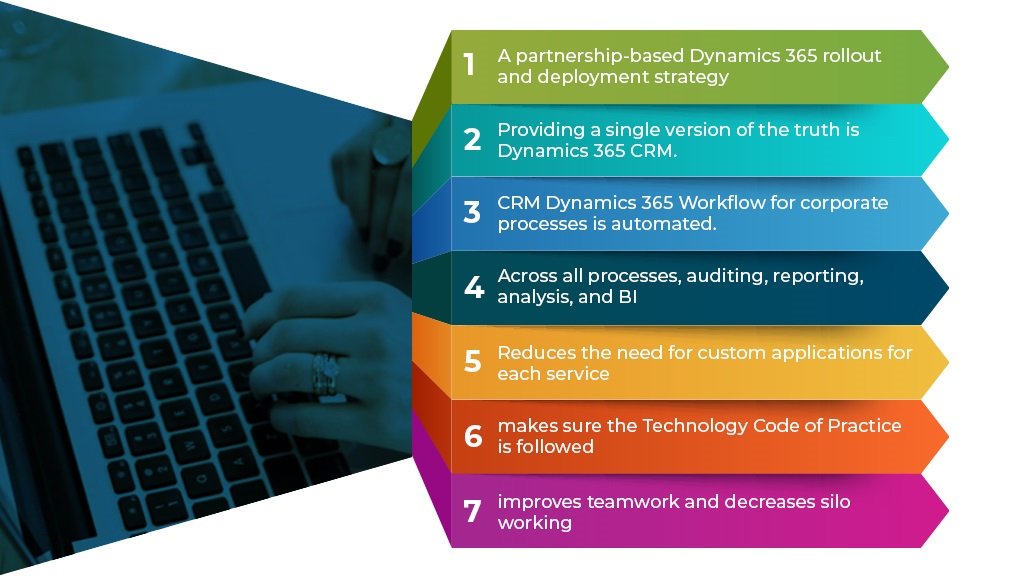 A partnership-based Dynamics 365 rollout and deployment strategy
Providing a single version of the truth is Dynamics 365 CRM.
CRM Dynamics 365 Workflow for corporate processes is automated.
Across all processes, auditing, reporting, analysis, and BI
Reduces the need for custom applications for each service
Use agile deployment, configuration, and implementation for quick business value realization.
Increases productivity and efficiency
makes sure the Technology Code of Practice is followed
improves teamwork and decreases silo working
Creates a platform for future expansion
Ability to communicate with Z and Y generations through several channels
A better student experience is delivered with event automation and digital marketing.
Microsoft Azure MSP's integrated 360-degree view of the student lifecycle
Management and visibility of the entire lifetime, from inquiry to graduation
Utilize specialized platforms and several channels to increase domestic and student conversion
Awareness of student wellbeing and involvement promotes greater student retention.
Consolidating systems and shifting outdated infrastructure to the cloud can save money. This also improves the consistency and quality of communications.
Improve overall administrative and operational efficiency, Fixed Price Engagement
To maximize improved service supply, provide proactive reporting and trend analysis.
Beyond Key consultants can help you with geo-optimized and multilingual CRM solutions for donor interactions, student recruiting, and administrative management. Additionally, you can get assistance from our Microsoft Dynamics CRM consultants with dashboards & analytics, departmental streamlining, alum engagement, facilities management, and activities automation. We even help you manage every aspect of the student journey effectively and easily in a single, integrated system that automates admission, fee management, timetables, reporting, attendance, finances, exams, and more!
Microsoft Dynamics 365 Offers for the Education Industry

There are several offers that Microsoft Dynamics CRM gives to educational institutions. But when combined with Beyond Key's expertise, you can unlock it more effectively. Let's look at how we can provide your educational institution full access to Dynamics CRM.
Enhancing the College Process
We first evaluate the current process with the help of our education specialists before designing a leaner and more efficient end-to-end procedure that will be implemented in your CRM. We've developed several automated activities to assist you in managing and following up with prospective students. Your teams will be more coordinated and equipped to ensure the goals and initiatives of the college, thanks to Beyond Key.
Effective Team Collaboration
We help your teams more effectively convey to other team members the specifics and demands of the students. Tasks will be arranged with them if roles and permissions are transparent, enabling you to work with more leads, close more applications, and provide better customer service.
Boost Your Team's Efforts
By automating various business processes, we'll free up more time for your team to focus on other tasks. Examples include tracking performance with dynamic dashboards and nurturing leads with automatic emails until they are ready to help purchase. To help your teams be more productive, we'll integrate your team calendars and offer lots of automation and predefined tasks.
Close More Applications
The student acquisition lifecycle will be shortened, and the number of applications will rise, with higher productivity and decreased processing times. We can assist you with end-to-end task organization, data consolidation, system integration, and student data tracking throughout every engagement, from website visits through admissions.
Performance Metrics for Success
We'll build a powerful performance control system with dashboards and specialized reports made only for the education sector. Live KPIs and insights will help you lead the appropriate improvement activities and enhance your performance.
Outstanding User Adoption
End users will have access to tutorials, training sessions, and coaching in both English and French, resulting in more seamless deployments, greater adoption rates, and a higher rate of return on your salesforce investment.
Conclusion
The education sector and Microsoft Dynamics CRM may work together to modernize and streamline their processes, providing seamless delivery to their users. But the real results only come when implemented correctly.
That's where we come in. Higher Education Institutions can implement Dynamics CRM from Beyond Key. To support the entire student journey, we take Microsoft Dynamics 365 and modify it for the higher education sector. The university can benefit from a single picture of a student by implementing simplified procedures and offering better customer service.
Get in touch with us to learn how we can support your institution's objectives, reinvent business procedures, and provide exceptional student experiences.